A valuable lesson in life
Home > Posts > When Enough Is Enough
Noticed the below today on my FB account....something we all can learn from and try and practice.
Dr.Shibal Bhartiya
---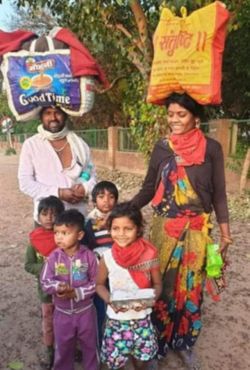 Grashmi and I were driving back after yet another day that left us raw and bereft. And that is when we saw this family on NH8 walking all the way home. Grashmi pulled over to the side and I asked them if we could share some biscuits and water bottles.
The mother answered for them."No, she said, we have enough". The father echoed, "है दीदी काफी है, किसी और को दे देना" (we have enough, sister. maybe you could help someone else). The little girl in white, Sapna, grinned. "बिस्किट है क्या?"(Do you have a Biscuit?). We got out of the car and handed over biscuits to the little girl. And her brother, Raj, in purple, wanted one too. The others refused.
If I ever need a reminder of grace and dignity and all that is beautiful in the world, I will look at this young mother's face: carrying all her belongings with such ease on the top of her head, with a hope and a prayer, that it will safely take her home. That, she, with four tiny children has a long long walk(800km) from New Delhi to her village near Raipur, in Madhya Pradesh. And that she has enough and will never take more than what is enough. And that she will smile through it all, and teach her children to always do the right thing too.
PS: I just noticed that the bag she carries on her head says "santushti"(meaning satisfaction)