An alternative mapping system
Home > Posts > What 3 Words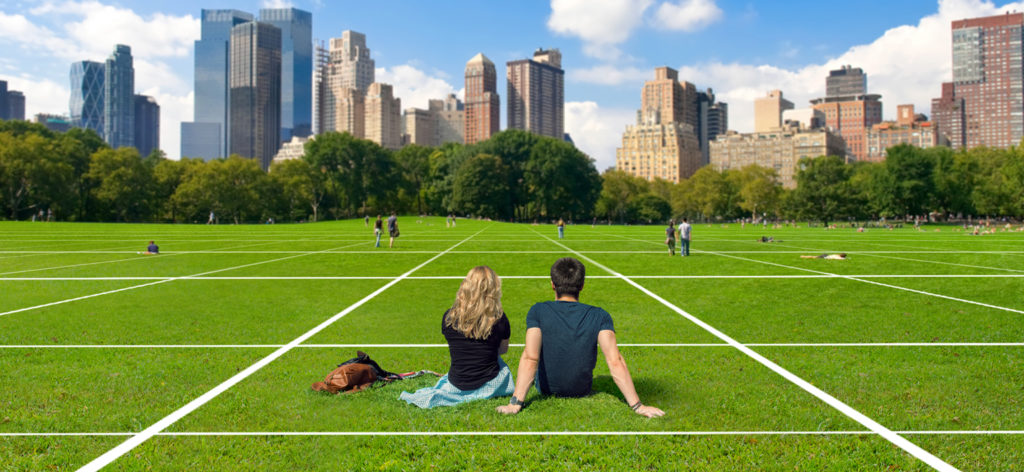 Without an address people live off the grid and ouside of government provided services and law. Moreover street addresses may not always point to precise locations or popular mapping/GPS tools like Google Maps, Sygic, MapQuest, OpenStreetMaps etc. cannot get you through a slum in India or Brazil or a crowded South African township. Thus is born What3Words, a company co-founded by Chris Sheldrick in 2013 and based out Royal Oak in West London, that has the planet divided into into one giant grid of 57 trillion squares each of 3mx3m(10ft by 10ft) and having a unique 3 word address or identifier. Words are randomly assigned to each square and will always stay the same for that specific square and never repeating or duplicating. Compared to numerical GPS coordinates they are easy to say, share and remember. They can be useful for locations in the world which do not have an official address, thus giving all and every inch of this planet a precise location. Aid Organizations, Emergency Services and NGO's can use this tool with amazing effectiveness as can people needing help in remote areas. Lonely Planet too uses w3w to indicate places of interest while Govt. of Mongolia has adopted it for its postal service. Other enterprises like Mercedes-Benz, Mitsubishi Motors, Ford, Emergency Services UK, Sygic, TomTom, Tata Motors, Dominos to name a few also utilize w3w in their operations...read more here. People now use their 3 word address on their websites, business cards and entrances for easy understandable location coordinates.
Here is their page, and view some videos on their page.
What3Words is available to use from their website OR as phone apps

and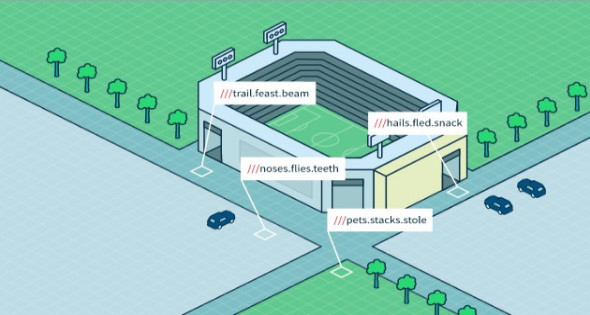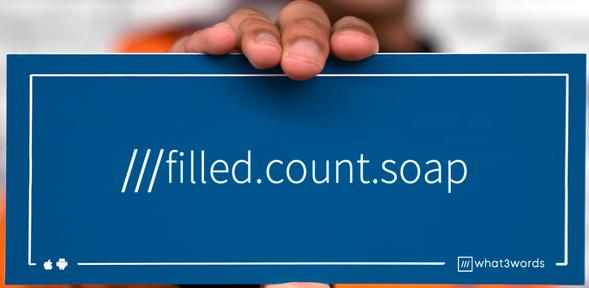 As each 3m square is a unique 3word address so each sqaure in a room of a house or of an office, of the park, shopping centre, beach, mountain trail, ocean/sea/river/lake will be a unique address.
Misspelling the words of the w3w address can lead you to a different location altogeather.
The address to use or share can be any of the format below ( this can be set using 'customize share settings')

simple web address
e.g : https://w3w.co/clip.apples.leap

pure w3w address
e.g : ///clip.apples.leap

the web address or w3w address alongwith the longitute and latitude cordinates
https://w3w.co/clip.apples.leap
40.712875, -74.006102(in decimal degrees)
or
https://w3w.co/clip.apples.leap
40°42.7725′N, 74°0.3661′W(in degrees, mins and seconds)
or
https://w3w.co/clip.apples.leap
40°42′46.3500″N, 74°0′21.9672″W(in degrees, decimal mins).

w3w is available in almost 48 different languages.