Tera Bayaan Ghalib
Home > Music > Répertoire > Mirza Ghalib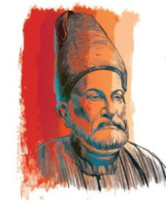 Mirza Asadullah Baig Khan (b:27Dec1797 – d:15Feb1869), was a preeminent Indian Urdu and Persian poet during the last years of the Mughal Empire. He used the pen-names of Ghalib and Asad.
Listen to a magnificent journey through the letters and poetry of Mirza Ghalib.
Artist – Jagjit Singh (singer)
Voice – Gulzar (narration)
Music Director – Jagjit Singh
Written by – Mirza Ghalib
Concieved, Scripted and Directed by Salim Arif


"Tera Bayaan Ghalib_Part1"
"Tera Bayaan Ghalib_Part2"
A collection of the Ghazals written by Mirza Ghalib and voiced by the noted ghazal singer Jagjit Singh.