Home > Diving Diaries > 100 Best Dives of a Lifetime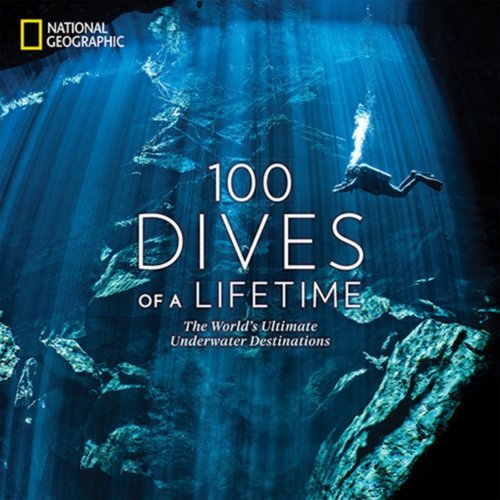 Our planet is a water world with 70% of it filled with water and with much of it still unexplored. The oceans and the seas , for generations, have ignited our adventorous spirits. For those who dare to go below the surface of water there lies a universe quite unlike any other on the land.
In the words of Brian Skerry (a National Geographic photographer). . .
On any given day you will never know what you will see and for someone with a sense of curiosity, there is always something new to explore & discover. We haven't even scratched the surface. 95% of the deep ocean still remains unexplored.
⚠️ - Scuba Diving is a potentially dangerous and risky outdoor activity than can lead to serious injury and even death. Important factors for safe diving are(but not limited to) good health & physical fitness, dive certifications, specialized training, specialized equipment, safe diving practises & experience.
REMEMBER - Always plan your dive and dive your plan.
100 Dives of a Lifetime by Carrie Miller
LOCATION
COUNTRY
DIVE FOR
AVG. WATER TEMP
AVG.VISIBILITY
AVG. DEPTH
DIVE TYPE
NOTES
Cathedral
New Calendonia
Beginner
75°F/24°C
65ft/20m
80ft/24m
Open Water, Night, Reef, Lagoon
Cathedral is located near Hienghene and is a deep rift with lots of winding ravines, caves and tunnels.
👀 - Manta Ray, Eagle Ray, Tuna, Green Turtle, Groupers, Seahorses, Dugongs, Anemones, Brain coral, Sae fans, Whitetip reef shark, Nudibranch, parrotfish, Triggerfish.
Thingvellir
Iceland
Beginner
37°F/3°C
330ft/100m
33-60ft/10-18m
Cold Water
Dive the Silfra fissure in Thingvellir National park(40km outside Reykjavik) and experience mirrior-like clarity of water between two continental plates. Dry Suit experience is must.
👀 - Two continents, Clear Water, Algae.
Afuera
Mexico
Beginner
82°F/27°C
20-100ft/6-30m
100ft/30m
Open Water, Reef
Afuera is 25miles(40km) from Isla Mujeres (Island of Women, is a 5mi/8km long island located off Yacutan Peninsula, Mexico. It's a short distance from Cancun). See Mesoamerican Barrier Reef, Atlantis Reef and Manchones reef(500 underwater statues). June through Sept is best time to see Whale Sharks with peak times in July and Aug. Day trips from Cancun and Isla Mujeres.
👀 - MantaRay, Parrotfish, Butterflyfish, Angelfish, Moray Eels, Barracuda, WhaleSharks, Bottlenose Dolphins, TawnyNurseSharks.
Critter Corner
St. Vincent
&Grenadines
Beginner
80°F/26°C
25-150ft/7-45m
32ft/9m
Macro
Best time to visit between May and November(NOTE – Hurricanes between Jul and October). Peak season and rates are from December through April.
👀 - LongSnout Seahorses, Pistol Shrimp, Pipefish, Mooray, Frogfish, Jawfish Shrimp, Butterflyfish, Flying Gurnards, Red Lobster.
Cocos Islands(Keeling)
Australia
Beginner
82°F/28°C
66-100ft/20-30m
30-130+ft/9-40+m
Srore, Reef, Drift, Wreck
👀 - Hawksbill and green turtles, Bottleneck dolphins, Manta rays, Pygmy Angelfish, Gray Reef Sharks, Whitetip Reef Shark, Blacktip Reef Shark, Triggerfish, Butterflyfish, Surgeonfish, Dugong.
Port Phillip Bay
Australia
Beginner
65°F/18°C
50ft/15m
40-130ft/12-40m
Open Water, Shore
At Melbourne's Port Phillip Bay explore the Octopuses Garden at Rye Pier, Flinders Pier, Pope's Eye(artificial reef) and shipwrecks at Lonsdale Wall, Port Phillip Heads. May to July - crab congregation.
👀 - Cuttlefish, Giant Spider Crabs, Seahorses, Pygmy Seahorses, Pipefish, Bull Rays, Shipwrecks, Octopuses.
Something Special
Bonaire
Beginner
80°F/26°C
75ft/23m
50ft/15m
Open Water, Night, Reef, Wreck , Wall
Within the Bonaire National Marine park. One time entrance fee required.
👀 - Frogfish, Squid, Eagle Rays, Garden Eels, Angelfish, Coral shrimps, Green, Loggerhead, Hawksbill Turtles, Seahorses, Octopuses.
Ari Atoll
Maldives
Beginner
81°F/27°C
75ft/23m
100-130ft/30-40m
Open Water
Oval shaped collection of 105 islands situated on top of an underwater mountain. 25miles/40km long second largest atoll in Maldives.December to March is best visibility. April through June are warmest months. Wet season May to Aug with bad visibility, high waves and winds. Maaya Thila is the most popular dive spot. Also Hafsa Thila in the north and Five Rocks.
👀 - Gray Reef Shark, Manta Ray, Whale Shark, Hammerheads, Triggerfish, Blueline Snapper, Batfish, Napolean Wrasses, Moray Eels, Barracuda.
Chios Island
Greece
Beginner
70°F/21°C
20-165ft/6-50m
100ft/30m
Open water, Cave, Wreck
Located close to the Turkish coast(6km) rather than to Athens(210km). Best time to visit - April to August.
👀 - Shipwrecks, rock formations, caves , The Great Wall - a 30m vertival wall studded with corals, Tuna, Swordfish, perch, Wrasses.
Tokai Maru & SMS Cormoran
Gaum
Beginner
84°F/29°C
50ft/15m
50-100ft/15-30m
Wreck
US territory and the largest island in Micronesia. Located 2575km east of Philippines can be reached by flights from Hawaii, Australia and East Asia.. Don't miss Chamorro Village night market(Wed)and Mangilao Night Market(Thu evening).
👀 - German S.M.S Cormoran(WW1 wreck) and Japanese Tokai Maru(WW2 wreck) lying side by side. Green Turtles, Pilot Whales, Spinner Dolphins, Lionfish, Tuna, Octopuses, Giant Trevallies.
Santa Catalina Island
USA
Beginner
62°F/17°C
50ft/15m
20-100ft+/6-30m+
22mi/35km from LosAngles with more than 70 dive sites. Casino Point, Blue cavern, Ship Rock and Sea fan Grotto are few favourite dive sites. Best time to visit is Sept - Nov.
👀 - Kelp forests, Sea Otters, Sea Lions, Nudibranches, Zebra Shark, Guitarfish, Abalone, Mantis Shrimp, Moray Eels, Garibaldi Damselfish.
R.M.S Rhone
British Virgin Islands
Beginner
80°F/27°C
40-100ft/12-30m
35-80ft/11-24m
Wreck
Haunted wreck of a ship sunk by a hurricane. Near the bow one can explore the interior, but the stern is not in as good a condition. 👀 - Barracuda, StingRay, Turtles, Green Morays, Tarpon, ArrowCrabs, Pufferfish, Lobsters, Sergeant Majors.
Richelieu Rock
Philippines
Beginner
80°F/27°C
49-115ft/15-35m
16-115ft/5-35m
Open Water
Located NE of the Similan Islands in the Andaman Sea its a horseshoe shapes location. Accessible from Oct to May with the lots of WhaleShark and MantaRay between Feb - April.
👀 - Pipefish, SeaFans, WhaleShark, MantaRays, Barracuda, Seahorse, Frogfish, Scorpionfish, Groupers, Whitemouth Moray Eels.
Port Lincoln
Australia
Beginner
63°F/17°C
33ft/10m
82ft/25m
Cage
Cage dive with Great Whites at Neptune island which is a 3-5 hr boat ride from port Lincoln. Snorkel with Sea lions off Hopkins island.
👀 - GreatWhite Shark, BronzeWhaler shark, Mako Shark, Blue Shark, Orcas, Thresher Shark, Australian SeaLions, NZ Fur Seals, Smooth StingRays, SouthernEagle Rays.
Rapid Bay Jetty
Australia
Beginner
63°F/17°C
15-50ft/5-15m
22-40ft/7-12m
Jetty
65mi/105km from Adelaide.
👀 - Leafy SeaDragons, BullRays, LeatherJackets, Weedy SeaDragons.
Trou Aux Biches
Mauritius
Beginner
78°F/26°C
50ft/15m
23-130ft/7-40m
Drift, Cavern, Open Water, Reef
Northern coast of Mauritius. Dive sites to explore - Aquarium, Mimi's Arch, wreck of Stella Maru.
👀 - Moray Eels, Clownfish, Parrotfish, Octopus, Bull Shark, Whitetip Reef Shark, Barracuds, Green & Hawksbill turtle, Anemones, Pufferfish.
Yonaguni Jima
Japan
Beginner
78°F/26°C
180ft/55m
18ft/5.5m
Open Water
Yonaguni Jima,located in the Okinawa prefecture and a 15min boat ride from Yonaguni Harbour, is the Japanese Atlantis known for large stone structures. It's among the five top for visibility but currents can be overwhelming sometimes. Best time to visit is Dec to May.
👀 - Hammerheads, Rock formations, Cardinalfish, Cuttlefish, Dogtooth Tuna, Bannerfish, Pufferfish, Boxfish, Butterflyfish, Clownfish, Moray Eels, Octopus.
Mohéli Marine Park
Comoros
Beginner
77°F/25°C
75ft/23m
15-75ft/5-23m
Open Water
The park is located on the south cosat of Mohéli, the smallest of the four island of Comoros, and is spread over 155sq.mi/401sq.km. Be aware travel disruptions are frequent and the accomodation selection is very limited.
👀 - Coelacanth, Humpback Whales, Spotted eagleRays, MantaRays, Barracuda, GreyReef Sharks, Electric Rays, Anemones, Clownfish.
Discovery Bay
Mexico
Beginner
68°F/20°C
125ft/38m
33ft/10m
Cage
Isla Guadalupe is the best location for warm water cage dive for the Great White. Best time to visit is Aug - Nov only accessible through a multiday livaaboard trip of 18-22 hours trip from San Diego(California) OR Ensenada(Baja California, Mexico).
👀 - Great White Shark, Guadalupe Fur Seal, Elephant Seal.
Julian Rocks
Australia
Beginner
71°F/22°C
16-100ft/5-30m
78ft/24m
Open Water
Located 1m/1.6km offshore from Byron Bay which is 110mi/177km south of Brisbane. It's one of the 10 best places to learn diving with an abundance of marine life and quality operators.
👀 - Humpback Whales, Zebra Shark, SandTiger Shark, Wobbegong Shark, Loggerhead Turtle, Hawksbill&Green Turtle, Yellowtail Kingfish, Barracuda, Bull rays, Nudibranchs, Cuttlefish, Sweetlips.
Lofoton Islands
Norway
Beginner
36°F/2°C
50ft/15m
65-130ft/20-40m
Cage
Take a multiday liveaboard in the Norwegian Sea to swim in the chilling water with the wild Orcas.
👀 - Orcas, Brown Algae Forests, Kelp Forest, Anemones, Wolffish.
Alphonse Island
Seychelles
Beginner
84°F/29°C
50-100ft/15-30m
130ft/40m
Open Water, Reef
Located 1m/1.6km offshore from Byron Bay which is 110mi/177km south of Brisbane. It's one of the 10 best places to learn diving with an abundance of marine life and quality operators.
👀 - Humpback Whales, Zebra Shark, SandTiger Shark, Wobbegong Shark, Loggerhead Turtle, Hawksbill&Green Turtle, Yellowtail Kingfish, Barracuda, Bull rays, Nudibranchs, Cuttlefish, Sweetlips.
Beqa Lagoon
Fiji
Beginner
78°F/25°C
60ft/18m
80ft/24m
Shark
.
👀 - Orcas, Brown Algae Forests, Kelp Forest, Anemones, Wolffish.